S/V Dalliance

Saba - Dutch Antilles
March 26-29, 2007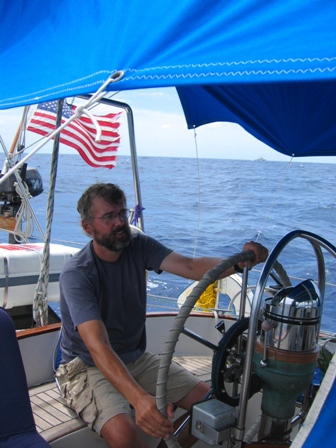 Motoring from Statia to Saba. We left the sun shade up to get some relief from the intense hot sun.
The initial plan was to sail to St. Eustatius, and then to continue to St. Barts which is known for its beautiful beaches, and St Tropez atmosphere, popular with the jet set. This would mean that we would skip Saba, to avoid having to sail into a north easterly trade wind. After SCUBA diving in Statia, however, we were amazed by the superb conditions, and we were eager to do a lot more diving. One of the best places in the world, happens to be in Saba, a mere twenty miles to our north west. Thanks to the relative fluidity of our itinerary we headed to Saba for more adventure. We were not disappointed to trade hanging out with the rich and famous, for SCUBA diving on the famed Saba Pinnacles.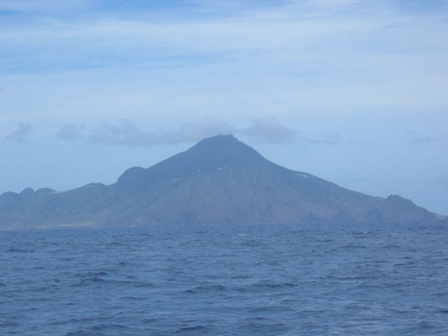 View of Saba as we approached. Saba is a tiny, five-mile-square island that rises almost vertically to 870 m (2,855 ft) out of the sea, with Mount Scenery usually shrouded in mist.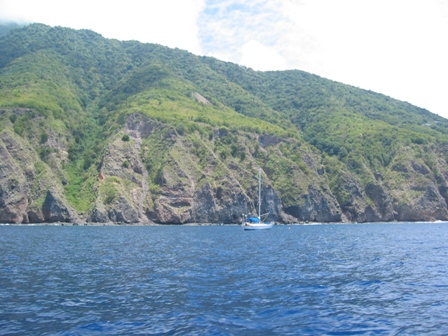 Dalliance at the mooring.
To get to the Saba customs and immigration office, we had to ride the dingy for two miles along steep deserted hillsides. Dinghy butt was a major problem.
We arrived early afternoon on March 26, and went ashore for the check in formalities. We discovered that starting in December 2007 the Dutch Antilles will change its governance. St. Eustatius, Saba, and Bonaire will be under a more direct Dutch control similar to one of the Provinces, and Sint Maarten, Aruba ,and Curacao will be more independent. Although tourism is much less developed in Saba, than St. Maarten, the natural beauty of Saba is unparalleled. Thankfully, due to some forward thinking of the Sabans, the ecology is protected by a marine park that encircles the entire island, established in 1987. Anchoring is not allowed in most places to protect the coral, but moorings are provided by the park.
After our arrival, we secured the boat to one of the moorings, and completed the immigration formalities and park registration. It didn't take long for us to find Billy, who is one of the cab drivers on Saba. It wasn't until 1958 that the first road was completed in Saba. In the early 1950's Dutch engineers came to Saba, and it was concluded that it would not be feasible to build a road through the steep mountainous terrain. Joseph Hassel who lived on Saba then took a correspondence course in road building, and along with some other Sabans build the road to Windwardside by hand. This is know as "the road that couldn't be build". There is also a road to Wells bay that is so steep, that many now refer to this road as "the road that shouldn't have been build". Billy took us safely to Windwardside through the hairpin turns, with magnificent views down the mountainside.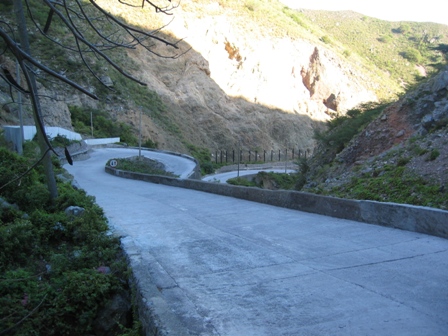 Once we got into the town, it was great to find an internet access facility to catch up again on some of our email. We also found that one of the restaurants hosted a slide presentation about the SCUBA diving in Saba. What a great introduction to the adventures that were ahead of us.
The next day was one the few rainy days that we encountered in the Caribbean, and I took the dinghy back into the harbor to see if we could schedule a dive for the next day. The first dive shop that I spoke with seemed quite commercial, and had daily diving groups of up to ten people at a time. This seemed like a herd-sized group underwater, and wasn't exactly what we were looking for. Next, I had a nice conversation with a gentleman at Saba Deep dive shop (www.Sabadeep.com), by the name of Big Mike. I confided to him that we had been doing some diving previously, but that I had always been somewhat afraid of sharks. I told him that at this point I would be interested in seeing one, though. As it turns out, sharks are one of Mike's favorite creatures, and he likes to dive with small groups. Perfect! It wasn't long before Holly and I signed up for two dives the next morning.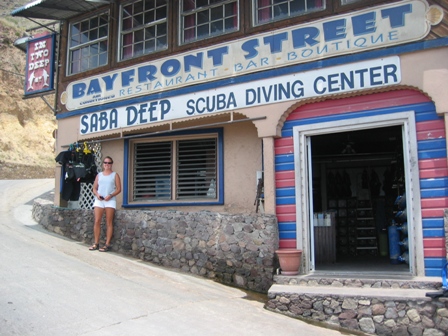 We met Big Mike at the dive shop around 8:30 in the morning to be ready for a 9:00 am dive. He told us that the conditions were great for a dive on one of Saba's famed pinnacles. About half a mile west of Saba, a seamount rises up from the ocean floor at a depth of 700 feet to about 90 feet from the surface. These are thought to be of volcanic origin, with subsequent coral covering. The particular area on the peak that we would be diving on is known as "Third Encounter". Once the dive boat was secured to the mooring, the three of us splashed backwards off the gunnel, and gradually made our descend along the mooring line. We wore our shorty wet suits but all Big Mike needed was his trusty old BC and off he went.
Holly anticipating what laid ahead of us out at the Pinnacles.
"BIG Mike" the best dive guide in the entire Caribbean.
Getting ready to descend into the deep!
The first thing that struck me was the amazing clarity of the water. Even from just a few feet below the surface, we could see the top of the seamount 90 feet down. Once on the peak, we neutralized our buoyancy and started our slow circle around the peak. The reef appeared to be in great shape with beautiful hard and soft corals taking up every inch of available space. We dove down to 110 feet, and as we made our way along the plateau, a second peak of the sea mound known as "The Needle" could be seen through the translucent deep blue water. We recognized many of the tropical fish species that we had seen on earlier dives, and snorkeling, but they seemed larger down here. The shallows were more of a fish nursery. It was tempting to continue to spiral down and follow these very colorful fish, but as you looked down the steep walls of the sea mound it seemed to fade into the 700 feet depth, without any visible signs of the ocean floor. Before we knew it we had reached our maximum bottom time, and it was time to head back up again. We stayed at twenty feet for four minutes to breathe off some of the nitrogen that our bodies had absorbed at bottom's higher pressure, to avoid risking the bends, where nitrogen bubbles could form in our blood stream.
We returned to the dive shop, and after a light lunch, we were ready to go again. This time we decided to go to Diamond Rock, as there did not seem to be too much current running. The dive site is named for the steep white rock that protrudes above the water, which has been painted over the years by layers of bird guano. Just moments after we are in the water, Holly spots a nurse shark on the bottom, and as we descend down the mooring line we see a large black tipped shark swimming twenty yards off, which then faded out of view into the blue beyond. Wow! What an amazing sight.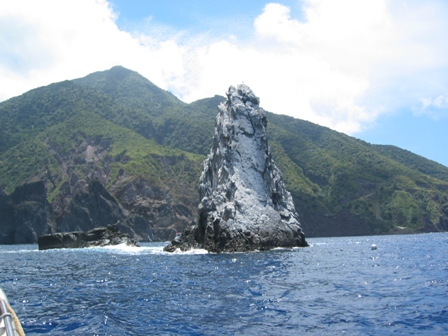 Diamond Rock - our second dive in Saba.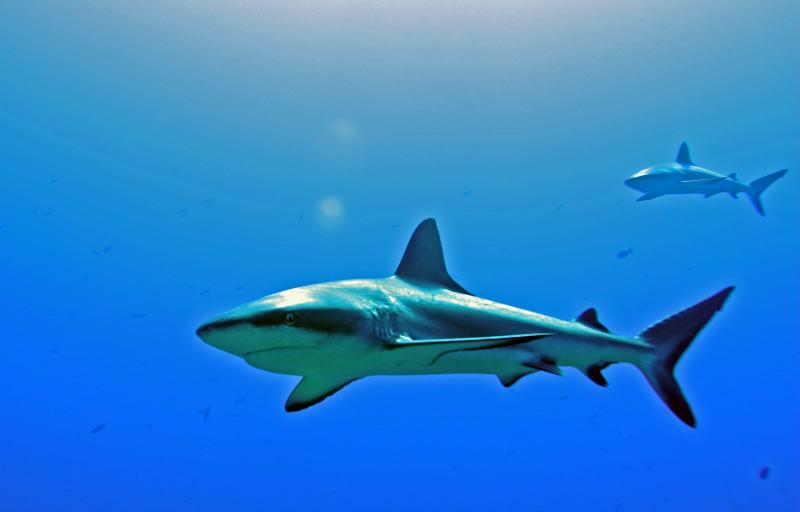 (Note: the shark and turtle pictures are taken from another source)
As we continue down the steep sides of the rock we see a phenomenal array of corals and fish. Just around the corner there is a sea turtle, that doesn't seem to be bothered a bit by our presence.
Big Mike also took Holly by her hand and they approached a 5 ft. barracuda. Big Mike was able to cradle the large fish in his hands while the fish remained motionless. It was amazing for Holly to be so close to a fish that had frightened her only a few months ago.
After having spend about forty minutes at eighty feet, it is time to surface again. We hung onto the mooring line again at twenty feet for the safety stop, and as I'm peering off into the blue, I'm hoping to get another glimpse of the shark.
We decided to take the rest of the day to take everything we had seen in, and relax around town.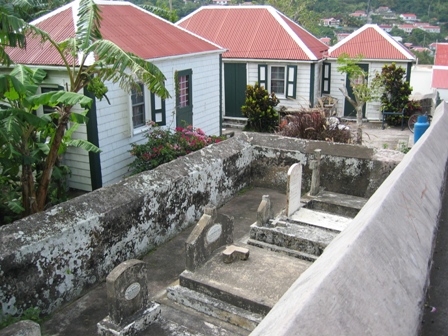 Because there is virtually no flat pieces of land on Saba, the locals tend to bury their loved ones in their back yards.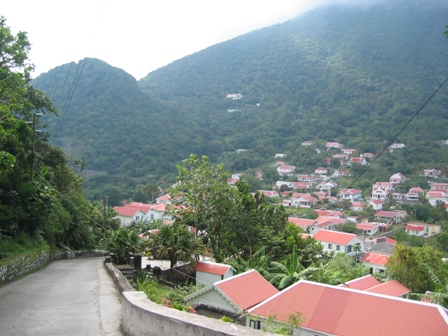 The view of Windwardside nestled between steep mountains.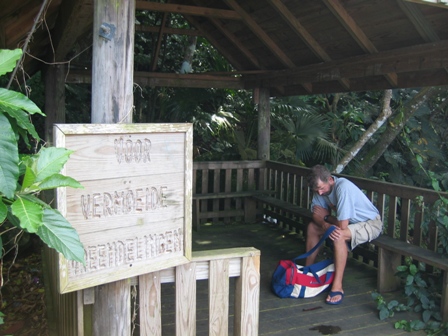 The sign reads: Voor Vermoeide Vreemdelingen, ( For Tired Visitors). which is a play on the Dutch VVV similar to the AAA in the US.
We should have taken Billie's taxi "downhill" also.
The following day we went for our third and final dive on Saba. We were met by our guide at the dinghy dock, and the dive boat was ready to go. This time it was Steve who would show us around, and he brought us to Shark Shoal. This was apparently not named by the Saba tourist bureau, but rather by fisherman long before SCUBA had arrived on the island. This site is another one of Saba's pinnacles that arises from the ocean floor at 300 feet to within 90 feet of the surface. There is one main peak, and two somewhat deeper peaks, covered with corals, sponges, and deep water gorgonians. Steve had brought along his shark attractor, which consisted of a partially filled plastic water bottle that made a distinct crackling sound when he rolled it between his hands. He wasn't exactly sure why it was so effective to bring sharks in the area closer in, but I couldn't help thinking that it had a remarkable bone-crunching sound. Maybe Steve took me too seriously when I mentioned an interest in seeing a shark. Large schools of jacks surrounded us as we made our way down to the top pinnacle peak. With our buoyancy slightly negative, it was like a slow freefall down to the base of the mooring line. It wasn't long before the Shark Shoal lived up to its name. An eight foot black tipped shark swam to within 15-20 feet from us to have a closer look. It quickly lost interest in us, and smoothly glided off without any perceptible effort, fading out of view. It was amazing to see such an animal that has been so successful in its niche since prehistoric times. Next, Holly made a cupping motion with her hand behind her ear. As I held my breath and listened, we could hear distinct humpback whale song off in the distance. What an amazing dive, and we hadn't even reached the bottom yet! We descended down to 130 feet, before we circled around the pinnacles, enjoying the intricate bouquets of corals and sponges, with colorful fish darting around the crevices. After sixteen minutes it was time to head up to the surface again, after making a stop along the mooring line to decompress. It was hard to believe how much we had experienced in such a short time.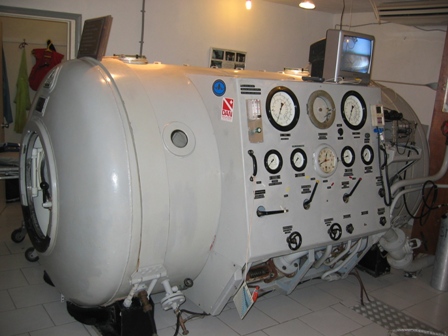 The Marine Park has its own recompression chamber to treat diving accidents where there is a risk of the bends. This unit was donated by the Dutch Navy, and serves the surrounding islands as well. It is used about 10-15 times per year mostly for commercial fishermen, and is staffed by volunteers on Saba.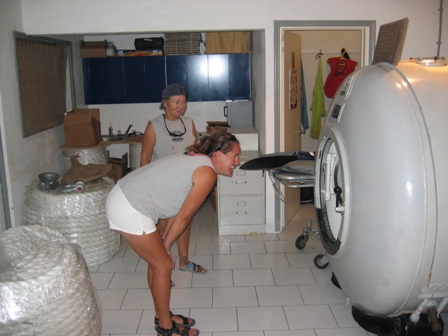 There is room for up to four divers at a time.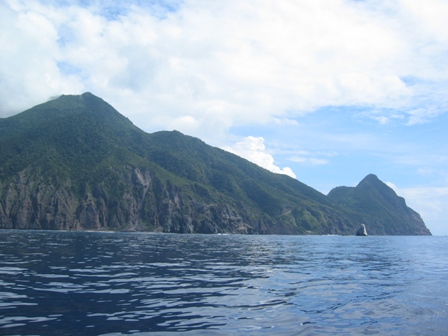 A view of Saba and Diamond Rock as we left for St. Maarten.