S/V Dalliance

St Vincent and the Grenadines
January 18th - February 15th, 2007
On January 18th, 2007, we arrived in Bequia, (pronounced Bek-way), Carib for "Island of the Clouds" which is one of the Grenadine Islands just south of St. Vincent. Although the trip was only 20 hrs or so, the Atlantic swell combined with light winds made for a relatively uncomfortable trip. We are looking forward to the flat water in the well protected bays of these islands. We saw a total of six cruise ships underway between Barbados and these East Caribbean Islands. I guess that we will not be alone here...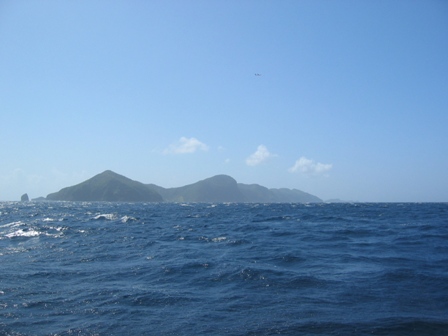 The welcome sight of Bequia after the overnight ocean passage from Barbados.
The Grenadines are made up of 32 small islands between St Vincent and Grenada. The original inhabitants arrived by small craft from South America. First the Ciboney, then the peaceful Arawak Indians, who were later displaced by the more aggressive Carib Indians. Ship-wrecked slave ships off the coast of Bequia, as well as slaves who escaped from Barbados in small sail craft also settled the island and became known as Black Caribs. During the 17th and 18th centuries the sovereignty changed between English and French. It stayed English in 1763 with the treaty of Paris, and in 1969 the United Kingdom declared it an associated state. It was not until October 27, 1979, that St Vincent and the Grenadines became an independent state. The language spoken throughout the Grenadines in English and Pidgin and the primary currency is the EC (Eastern Caribbean) dollar which is approximately 2.68 to the dollar. Shopping for groceries etc... was a little of a shock initially, a jar of mayo being 22 EC, until you got used to dividing everything by 2.5 and adding a little to it to compare it to the US dollar.
Dalliance at anchor in Admiralty Bay in Bequia. (Seventh sailboat from the left) The ships in the bay vary from the mega yachts, large square riggers, cruise yachts, charter yachts, and the occasional freighter.
Our friends Ed and Julie on Cinnabar celebrated their world circumnavigation here in Bequia, where they closed the loop. They were last here in 1997 when they headed for the Panama Canal. Naturally, the event was properly observed and celebrated by about sixteen fellow cruising revelers.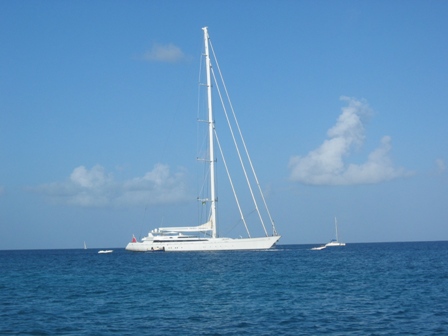 One morning, the Mirabella V was anchored next to us. At 175 feet, this is the largest single masted sailing vessel in the world. They were previously anchored in a bay along the south of St Vincent, but were asked to leave by the Coast Guard because their 291 foot mast height was interfering with aircraft approaching the airport. We had also seen this boat in Las Palmas, Gran Canaria, where they were in the company of Mirabella I, and Mirabella III. Remarkably, each of the Mirabellas were noticeably larger than their predecessor. According to the crew of Ghost (122 foot all carbon silver gray maxi racing sailboat) that I spoke with in Las Palmas, the Mirabella V motors rather than sails during the Atlantic crossing. The sails apparently are so expensive that spending money on diesel instead makes more economic sense. But how fun is that?
A Sunday brunch celebration with several of the crews that were part of the short wave radio net during the Atlantic crossing. Left to right: Adande, Dalliance, Cinnabar, Malarki, Barbaro, and Austraeles.
Holly and I with Admiralty Bay in the back ground.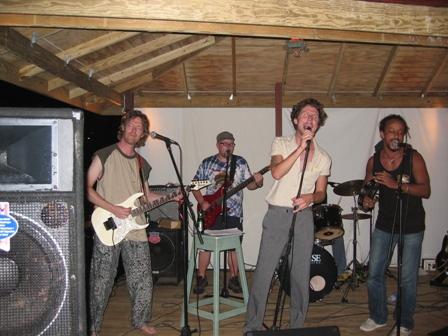 One of the local bars that we went to with our Swedish friends from Lena had a great band playing. Much to the amazement of our friends, they recognized the guy that came up out of the crowd to sing a few tunes with the band, to be Grammy Award winning Swedish rock star Money Brother (Anders Wendin). Apparently, he normally fills large stadiums for his concerts, and a ticket is a hot commodity. It was a real treat to see this guy just having fun in a small setting. As an added bonus, special Swedish guest Daniel Lemma (on the right), also joined in for some good R&B tunes. As it turns out, the bar and a local hotel is owned by a Swede with rock and roll connections at home. Definitely a fun night!
A bread fruit tree, common in the Caribbean. They were originally brought over by Captain Bligh on the Bounty from the South Pacific, as a means to cheaply feed the slaves on the plantations.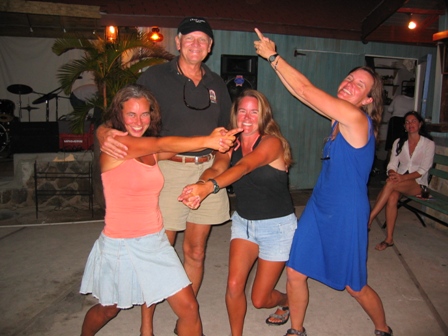 Holly has been going on power walks each morning with her friends Ylva and Julie, while Ed has been volunteering as taxi service in his dingy. Before long, they dubbed themselves Charlie's Angels, and Ed got to be Bossley.
The view from one of the hikes looking along the north east side of Bequia, with a coconut plantation in the valley.
This is a local bus stop, but there was no bus coming, and no one was expecting one either.
Bequia unfortunately still has an active whaling fleet, which is allowed to take four whales each year using traditional methods. Luckily the interest in pursuing this is waning, and the last harpooner's sons have no interest in following the tradition according to our taxi driver who is the harpooners brother. The harpoons can be seen alongside his house, ready for the season to start . Thankfully, the catching of a whale is a rare event. It does make you want to drive the zodiac like Green Peace, though.
Bequia's fishing fleet consists of brightly colored local built wooden boats.
A scenic vista looking south to Mustique Island.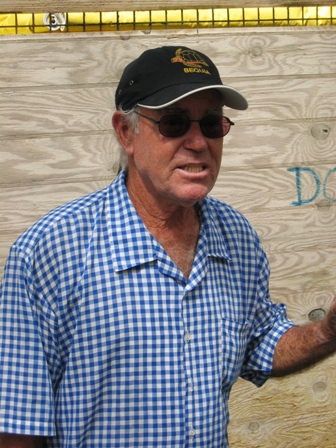 Orton King runs the Oldhegg Turtle Santuary (Oldhegg@vincysurf.com). He is an independent conservationist who has taken it upon himself to protect the local turtle population. A history of nest poaching and natural predation has caused the number of sea turtles to dwindle over the years. By protecting the hatched turtles in his tanks, and later re-introducing them back into the wild, he has been working to reverse the decline of the population. Amazingly, he has done this with limited local support, and little help from the local government in terms of funding. He is now interested in establishing a relationship with a university or aquarium to continue his work.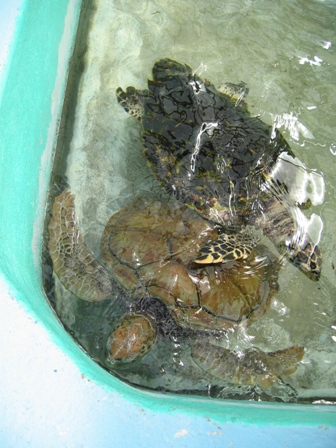 Three week old turtles on the left, and three year old hawksbill and green turtles on the right.
We decided once we arrived in Bequia that we would stay in the harbor for about a month or so. We both were looking very forward to not having to move around, to have a stable boat and just relax. This second crossing took a lot out of Marco and I, along with most of the other sailors. We were not the only ones that decided to hang around Bequia either, Cinnabar was joining us also.
It didn't take us long to get to know quite a few of the locals around town and become very familiar with the little island of Bequia. The local population of Bequia is about 6000 and is a mixture of African ex slaves and old European colonists, mainly Scots and French. There are also a few people with ancestors from New Bedford, MA, who came in the 19th century to hunt whales and taught the skill to the local fisherman.
Here are a few pictures around the town area.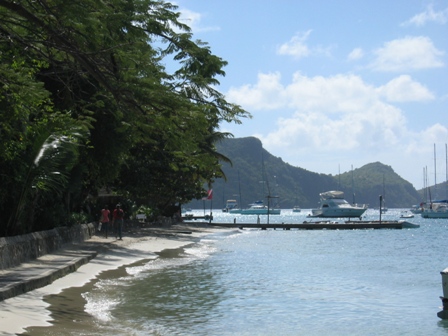 This is the path the follows the bay in Bequia and where the Gingerbread and other restaurants are located.
This is a view of the center of town from the bay. The building that says laundry was a great little internet café with an amazing view of the harbor, especially at sunset.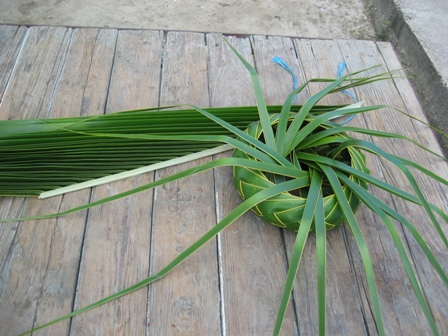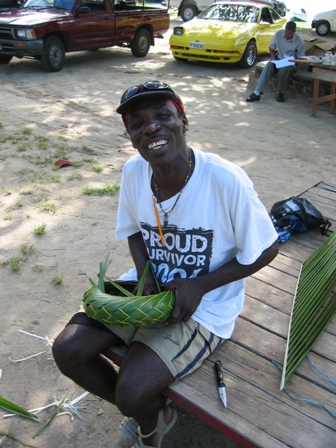 There were many skilled people around town. This gentleman could make anything from palm fronds. He made me this basket just by weaving and it only took about an hour or so.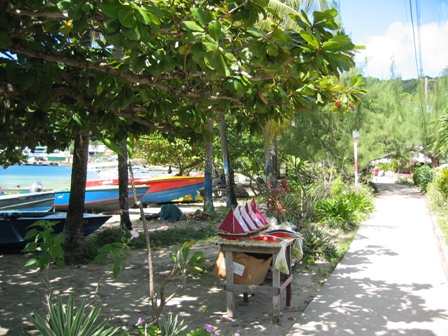 The local fisherman had to make their own boats from the trees that grew on the island. Now, few actual fishing boats are made but there are quite a few artists in town that make model boats of the whale boats that were and are still being used today.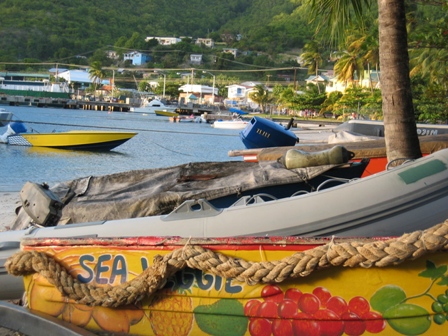 The Gingerbread Café is where Marco and Ed would meet us girls after our power walks. Here we would quench our thirsts with the daily local fresh juice (passion fruit, mango, sorrel) and the boys discovered the homemade cinnamon rolls. This is where I also found my favorite flavor of ice cream, homemade coconut.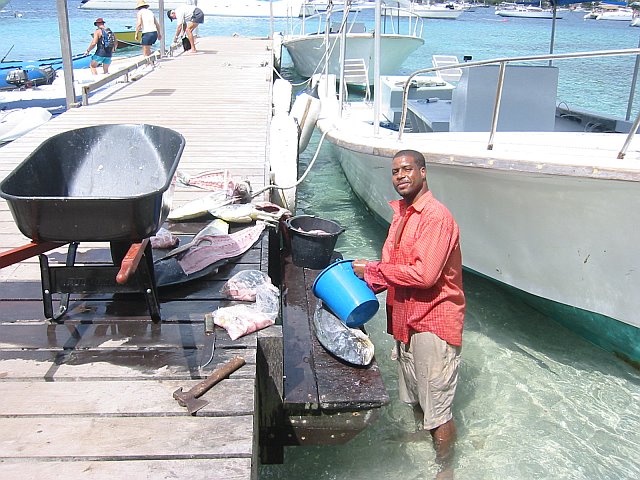 Boise works at the Ginger Bread House Restaurant, where he manages the property and cleans the day's catch of fresh Mahi-Mahi and tuna. He also would bring Julie and I a treat after we would finish our walks from freshly picked grapefruit to sorrel fruit from which they make the juice from.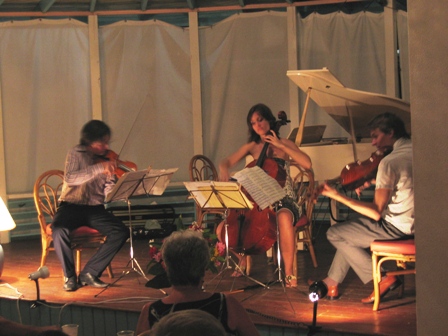 We didn't only listen to rock and roll in Bequia we also took in the Mozart, under the Coconuts and Palm Trees Festival where Pirates of the Norwegian Fjords played beautiful music.
Mom and Dad arrive in Bequia
We have not had the greatest of luck meeting our family members when and where we had planned to. But with mom and dad who were extremely flexible, we called them the night we left Barbados and told them that they could meet us in Bequia any time. Two weeks later they came to visit us and the four of us had the times of our lives. Both Marco and I really wanted my dad to be able to enjoy and have fun on Dalliance, especially after working for 3 solid weeks on her so that we could actually go on this journey.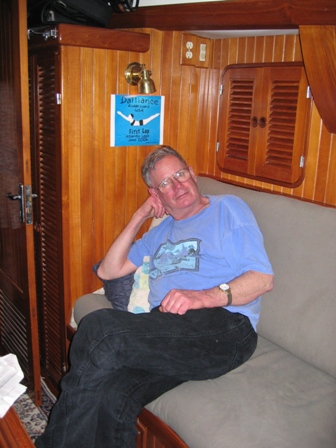 Mom of course brought all kinds of goodies. My sister Weiner also sent along some Christmas gifts which was a great surprise!!!
It didn't take long for mom and dad to get into the island life. We enjoyed Bequia so much that we wanted to show mom and dad some of our favorite sites around the island.
We took mom and dad to the turtle sanctuary were we saw some recently born baby goats.
Just a few "nuts" hanging out and having a good time.
Sunday Brunch with Mom, Dad, Ed, Julie and Marco and I at Friendship Bay. The view was incredible and instead of chairs at the bar they had swings.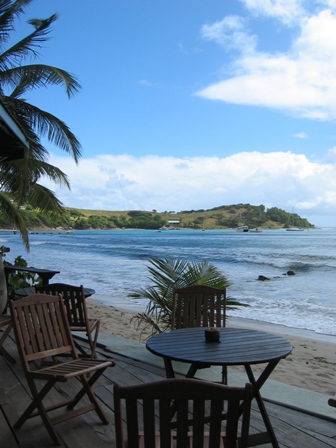 Friendship Bay, Bequia view at Sunday Brunch.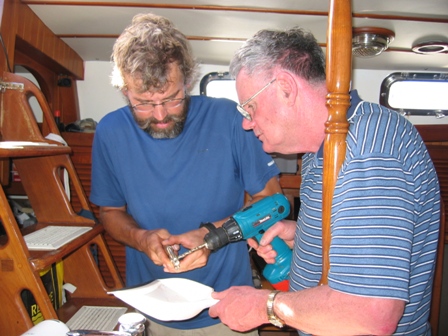 There are always a few project to do on the boat. Buck's talents were once again tapped into to keep things in good working order. News spread quickly through our friends about my dad being a talented machinist and our friends from Denmark, Stefan and Loni, came over to seek out his services. Dad ended up making them a new hinge for one of their port lights once he got home to Cashmere, WA.
The 288 foot Maltese Falcon was also anchored in Admiralty Bay, and on our way out to Mustique, we were able to get a good look at this amazing boat. What makes this boat remarkable is that it has three free-standing carbon fiber masts, each with six curved yards. The sails are rolled in the forward sides of the masts, which can be set fully automatically in about six minutes. The boat was designed by Gerard Dijkstra from Holland, and build by Perini Navi from Italy.
Mustique, The Grenadines
Three days after Mom and Dad arrived we decided to pull up anchor and sail down the Grenadine Islands. This mini-archipelago of volcanic islands lies between St. Vincent and Grenada. They are truly a tropical paradise. The water is crystal clear, warm, and filled with an abundance of sea life. The shores of the islands have white sandy beaches, palm trees and each island has its own uniqueness to it. We decided to sail only about 7 miles away from Bequia and spend our first night in Mustique. Not too many years ago Mustique was really only known to the local fisherman. That all changed however when Colin Tennant, a rich entrepreneur from Britain, bought the island and made it a private island and provided solitude for those that could afford to live here. Princess Margaret was one of the first people to buy a home here. It didn't take long for others looking for solitude in the Caribbean to also find out about Mustique. Some of the other famous people that also own homes on Mustique are Raquel Welch, David Bowie, and Mick Jagger. You can see why it didn't take long for Mustique to acquire the nickname, Billionaire's Island. Today the island is run by Mustique Company, which is made up of all the islands proprietors. They actually sell a coffee table book called Families of Mustique and you can see Mick Jagger and Pierce Bronson hanging out in the local park at a BBQ. The island itself is really beautiful. you are allowed to walk everywhere but are asked to please respect the private property signs. There are only about 4 little stores/boutiques in town, a restaurant called Basil's Bar and the local fish market. Mom and I were pretty excited to roam around though and see who we would, "run into."
Dalliance on a mooring in Britannia Bay, a short swim away from a beautiful coral reef.
During the evening Marco, Dad, Mom and I were hanging out enjoying the beautiful evening after our BBQ dinner and this "bird" kept flying under the Biminis. None of us could actually tell if is was a bird or a bat. Well, the next morning, Mom was the first one up and started making coffee and noticed what looked like mice poop on the floor by the nav. station. Those were not birds we were seeing last night they were BATS. We then looked in the cockpit where I had hung a big bunch of fresh bananas on the binnacle and the bats had literally sucked them dry. Well we were prepared for them the next night and we removed all of the fruit from the cockpit. Mom and I were down in the galley preparing dinner and all of a sudden a bat was back in the boat and nearly took out my mom. She screamed quite loud, you could hardly blame her. We all got a good laugh out of it after the fact then proceeded to put in the screen doors to the companion way to prevent them from entering again. I haven't told my Mom this yet so try to keep it a secret, but after they left I was removing the sheets from the V-Berth where Mom and Dad slept and found a considerable pile of bat poop at the foot of their bed. It seems that not only was there a bat at the nav. station, one also slept with Mom and Dad that first night. OOPS!!!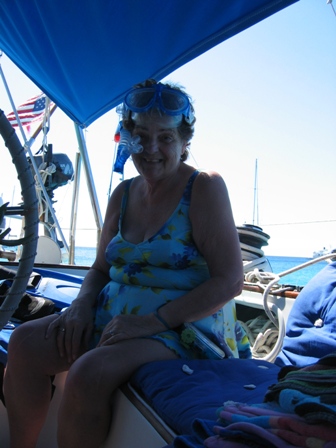 Gladys is ready for some underwater sightseeing.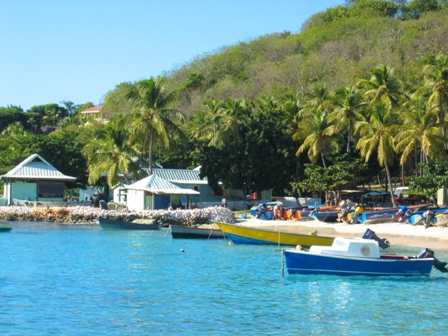 The Mustique water front
The beaches around Mustique were truly spectacular.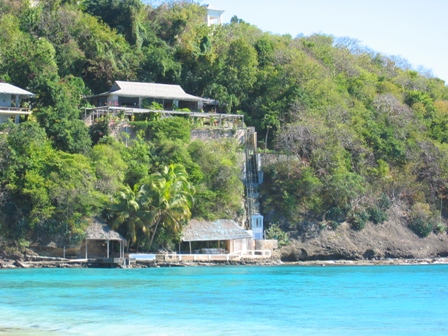 This is one of the homes on Mustique. The contraption on the bottom center of the photo is actually an elevator that goes from the house to the beach.
All this and topless super models too?
As we were taking a walk around the island and Marco and Dad happened to stumble onto a topless beach. It was very difficult to get this group shot without one or the other of them looking down the beach.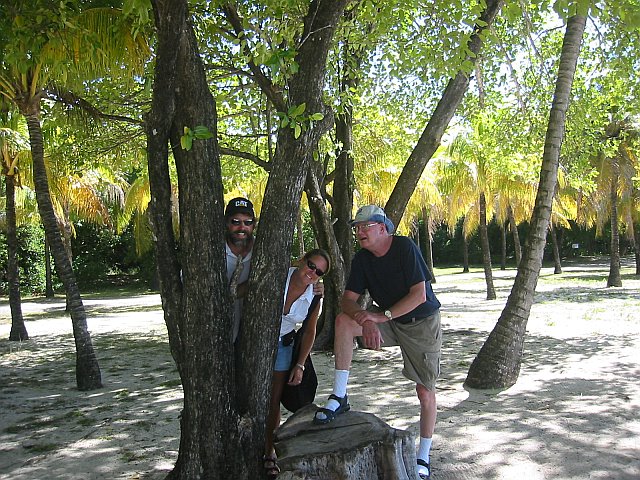 Marco, Me and Dad!!
Dad, Mom, Marco and I.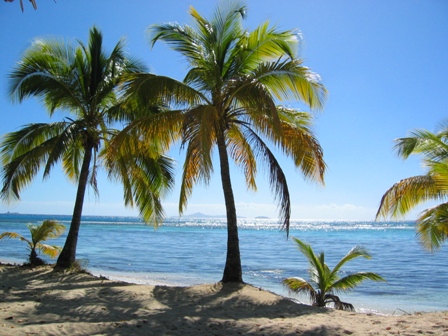 Another perfect beach day!
As luck would have it, we were there just in time for the final two days of the Mustique Blues Festival, held at Basil's Bar along the water.
The headliner for the festival was Eugene "Hideaway" Bridges from Houston Texas, who was in the midst of a world tour. An amazingly talented musician, he reminded me of a young BB King.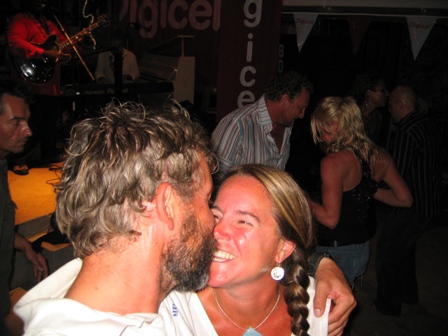 The music was so great, it even got Marco on the dance floor.
Gladys enjoyed some fishing during the sailing passages between the islands.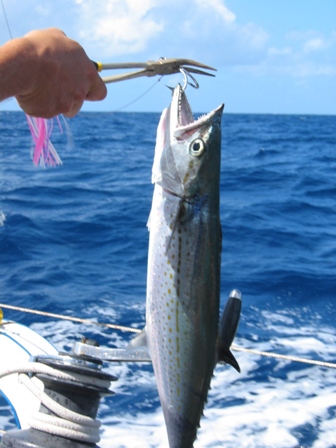 This Cero, which is closely related to the Spanish Mackerel, was one of the many fish caught by mom.
Tobago Cays, The Grenadines
After spending 2 nights in Mustique, snorkeling and relaxing, we decided to head for Tobago Cays. Tobago Cays is a tiny clutch of five uninhabited islands that are surrounded by coral and are protected to seaward by a huge barrier called Horseshoe Reef and by another reef to the east called World's End Reef. You actually anchor with the reef the only thing between you and the Atlantic Ocean.
Tobago Cays is known to be one of the top snorkeling/diving spots in the Caribbean. We spent a lot of time here swimming and taking in all the amazing sea life. The reef was highlighted by gigantic sea fans, gorgonians, and barrel sponges. There were also throngs of angelfish, grunts, huge parrot fish and we even got to swim with sea turtles.
Approaching the Tobago Cays from the north
The Cays are sheltered from the Atlantic by a horseshoe shaped coral reef.
We saw several large iguanas on Baradel Island that allowed us to approach relatively close.
The anchorage in Tobago Cays.
The water is really this color with visibility over 80 feet!!!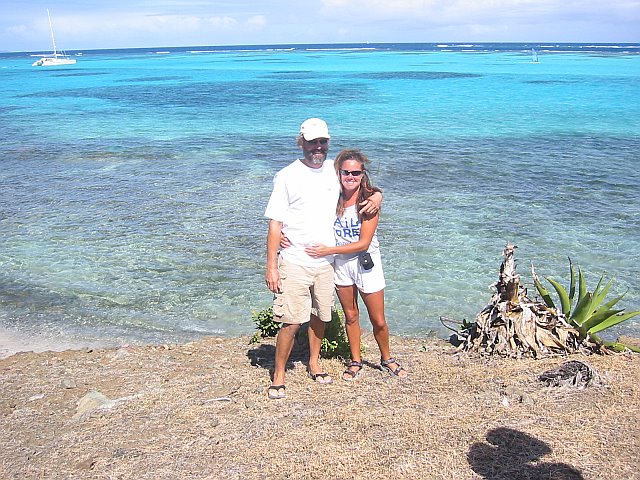 Marco cleaning off some growth along the water line. We call it, "mowing the lawn."
It was great to see our friends Martin and Dirma from S/V Dingo again, who we had met in La Coruna Spain and survived Hurricane Gordon with. They left Holland this summer and are continuing to Curacao and Panama for a world circumnavigation.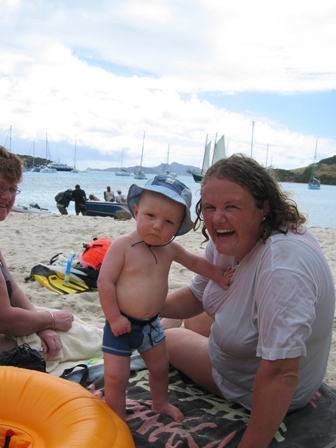 Dirma and her son Boas.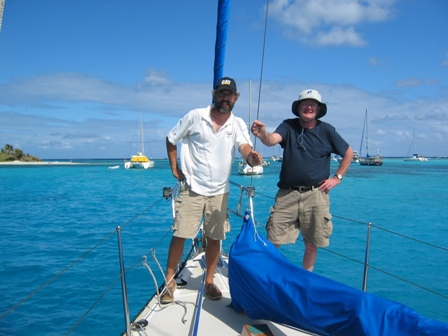 The anchor seems securely set. It didn't take long for Mom and Dad to become part of the crew. Mom was constantly reminding us to lower the refrigerator, making sure we were on battery # 1 and the best part making the coffee in the morning. Dad would assist when we anchored by flaking the chain in the chain locker, not a fun job at all. He also sailed Dalliance while mom fished and Marco and I relaxed.
Barracuda!
All Mom had to do was pick up the rod and she would catch another fish. Next time could you catch a tuna, I have been craving sushi!!!
The nine days that Mom and Dad stayed with us went all too fast and before we knew it we were having our last dinner together. Mom and Dad wanted to take us out to a really nice restaurant for dinner but Marco and I really wanted pizza. It had been such a long time since we had had a really good pizza. Dinner was fantastic, Thanks Mom and Dad!!!!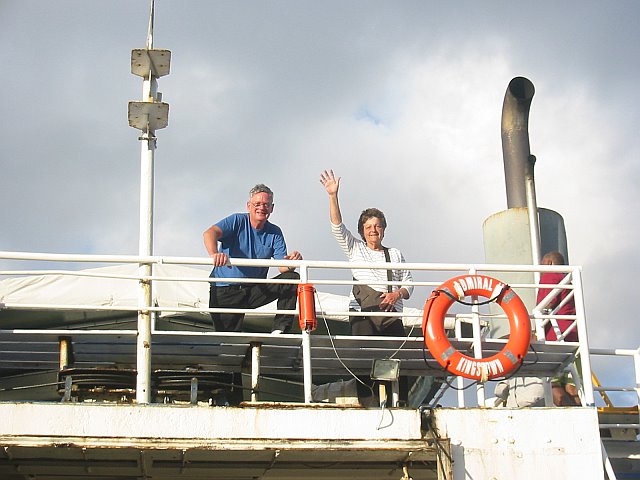 Buck and Gladys back on the ferry to St. Vincent, to start the long journey home again.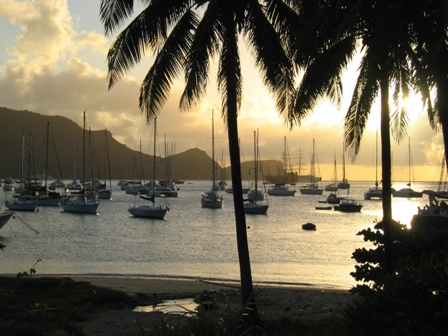 Sun set in Bequia