S/V Dalliance

Bahamas
May 22 - June 4, 2007
The islands of The Bahamas form a 100,000 sq. mile archipelago that extends over 500 miles of what many consider the clearest water in the world. There are over 700 islands, which includes the uninhabited cays (pronounced "keys") and some large rocks, that total an estimated land area of 5,382 sq. miles, with the highest land elevation being 206 ft. Each island has its own diversity, including geography, personality, culture and traditions.
Geography played a crucial role in Bahamian history. In 1492, Christopher Columbus made his first landfall in the New World on the island of San Salvador, yet we also know that Grand Turk is also claiming the same. It is said that after he observed the shallow sea around the islands, he said, "baja mar" which means shallow water or sea, and effectively named the area the Bahamas, or The Islands of the Shallow Sea.
We actually were on a very tight time constraint, we had to be in Nassau by May 26th when Marco's brother David would arrive. We had already missed meeting up with him in Barbados when our forestay broke off the coast of Cape Verde, so we were determined to not let that happen again. Hurricane season is also just around the bend, it officially starts June 1st, and since many of these storms are "born" in this region we knew we shouldn't dilly dally. In order to save time, instead of cruising through the Exhumes, we decided to sail outside of the islands in safe deep water, so that we could travel at night as well. Our first landing in the Bahamas was San Salvador Island which is located in the eastern Bahamas.
San Salvador Island, Bahamas
May 22 - May 23, 2007
A view of Long Bay, San Salvador
San Salvador is one of the easternmost islands of The Bahamas archipelago and is actually an exposed peak of a submerged mountain that reaches 15,000 feet to the ocean floor. It is 12 miles long and 5 miles wide.
Like I stated before, Christopher Columbus is said to have made his first landfall on San Salvador and there are four separate monuments that are said to mark the exact spot where he came ashore on October 12th, 1492. It is also reported that he may have landed on Long Bay, which is the picture above.
The island was first named Guanahani by the native Lucayan Indians. Columbus renamed it San Salvador or "Holy Savior", noting in his journal: "The beauty of these islands surpasses that of any other and as much as the day surpasses the night in splendour." The island was later taken over by a British buccaneer, George Watling, and he renamed San Salvador after himself, calling it Watling Island. It wasn't until 1925 that the island's name was restored back to San Salvador.
Dalliance at anchor off Long Beach, San Salvador Island, Bahamas. The water was so clear, we could actually see our anchor after we dropped back just sitting in the white sand. We were also able to enjoy a spotted eagle ray swimming under our boat. Notice once again the deep drop off on Dalliance's starboard side. The water here was also emerald-blue in color and is said that visibility is around 150 ft.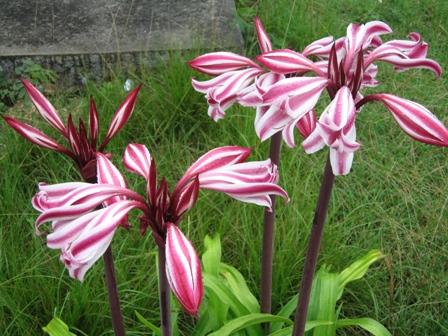 Local flowers on San Salvador Island.
Our main reason for sailing to San Salvador was to check into customs, pay the $300 cruising fee for the Bahamas, refuel and reprovision, and then head straight to Nassau. We only ended up spending one night here so we did not have much of an opportunity to explore the island but it is definitely on the list of places we would like to visit again.
New Providence Island, Nassau, Bahamas
May 25 - June 4, 2007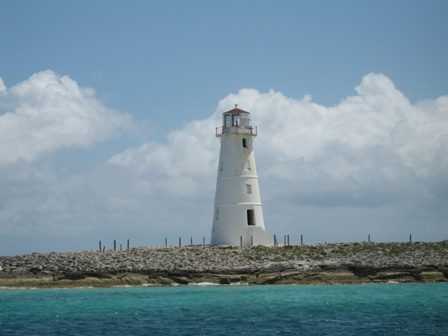 The lighthouse at Nassau Harbors entrance
With twenty-four hours to spare, Marco and I made it to Nassau, Bahamas to meet his brother David. We had two days of a spirited sail from San Salvador to Nassau with 20-25 knots of wind from the NE with gusts up to 30 knots and 10 foot waves. When we arrived in Nassau we ended up dropping anchor in Nassau harbor, not the most salubrious surroundings but the boat wasn't rocking so we both were quite happy. Now the work started in getting the boat back in shape for David's visit!!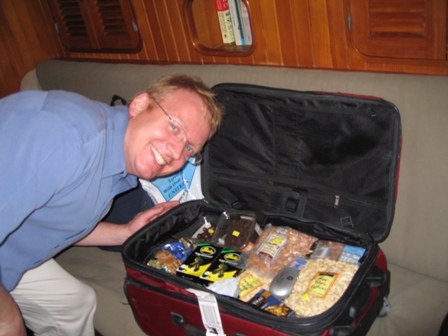 David arrived with a suitcase filled with wonderful snacks from home that Katy, Dave's wife, sent our way. Tina, Marco's mom and Katy also put together a great selection of books for us to read. We felt like it was Sinterklaas!! David also brought Christmas cards we had received while on our trip. It was great fun ready about and catching up with all of our friends who send Christmas wishes.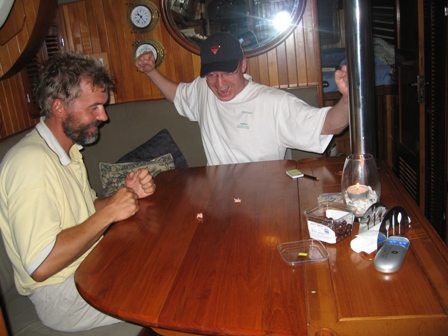 David brought Piggley Wiggley or the game Pig with him. Here David and Marco are playing a competitive game.
The first day that Dave was here we decided to go to Paradise Island across the anchorage where the amazing resort Atlantis is located. We walked the long, white sandy beach, played shuffleboard, went for a swim and just relaxed. It didn't take Dave long to adapt to "Island Time".
The next day we decided to take Dave out of the harbor for a day of fishing. We exited the harbor and dropped the line sailing straight out to the open sea. About an hour out Marco yelled, "Fish On", and chaos soon followed. Once the fish was hooked the sky opened with a cold rain and the wind picked up. Marco fought the fish for about 15 minutes then handed the rod over to Dave to bring in the fish, which took about another 10-15 minutes, it was a real fighter. Dave ended up bringing the Mahi Mahi in beautifully. However once the fish was in the cockpit it started to flop around and in no time at all three of us jumped out of the cockpit to get out of the way of its slapping tail. It didn't take long to realize that the fish could easily go down the companionway into the cabin so Marco came to the rescue and took care of the fish. Once done the cockpit looked like a mass murder just took place!!!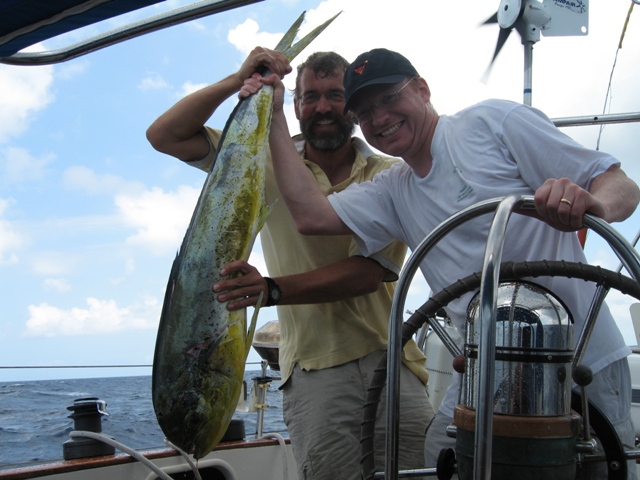 Dave and Marco's 48 inch Mahi Mahi!!!
That night we invited Ed and Julie over from Cinnabar, who had just arrived, and the five of us ended up having an amazing dinner of freshly grilled Mahi Mahi. The rest of the time spent with Dave went way too fast. Marco and Dave went snorkeling at Athol Island where they saw almost every possible thing to see, including beautiful corals, angel fish, sting rays, turtles, and even a reef shark!! Dave also took us out to a fantastic Italian dinner, to celebrate our anniversary of being at sea for a year, at a restaurant that overlooked the harbor.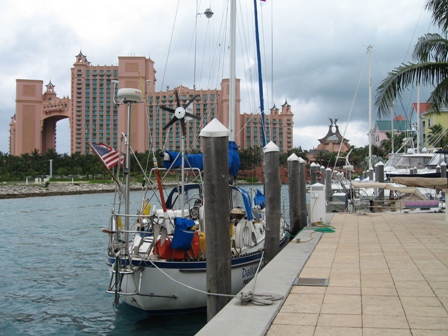 Dalliance tied up at the Atlantis Marina.
The day after Dave left we received a forecast of a gale moving in. We decided along with Cinnabar to ride out the storm at Atlantis, securing a dock at their new marina. With the mooring fees we received access to all of the resorts amenities which included the waterslides, casino and aquarium. It ended up being a fantastic way to ride out a storm, that luckily never fully materialized. Quite a treat!!
The Atlantis Resort with one of the many lagoons on the property. Atlantis boasts having the largest man-made open air marine habitat in the world. The resort had 34 acres of waterscape that held 11 million gallons of fresh and salt water.
The resort had some beautiful walks through tropical forests and along lagoons which are said to contain over 50,000 sea creatures representing 200 species, including sharks, stingrays, sawfish, spiny lobsters, turtles, manta ray and much more.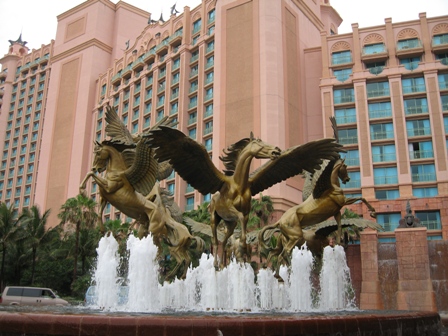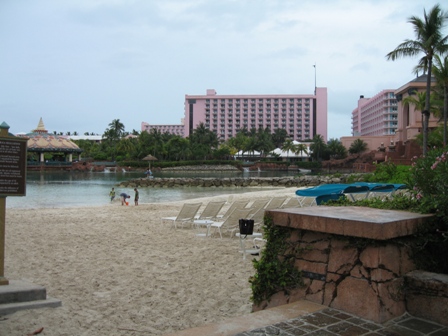 One of the many fresh water lagoons for swimmers.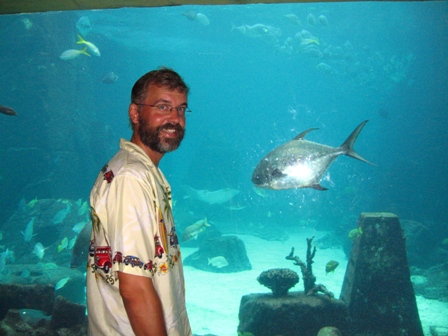 "The Dig", the name given to the aquarium at Atlantis, was wonderfully done. We were able to come face to face with an enormous manta ray, saw fish and even sea horses.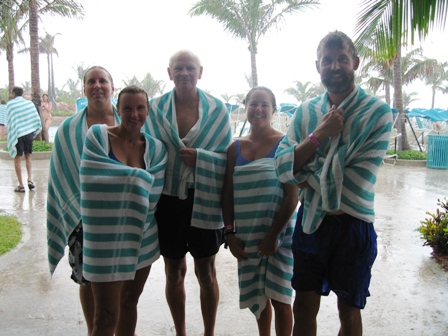 It didn't take long for us and the crew from Cinnabar, along with Ed's brother Chris, who was visiting, to hit the waterslides and water park.
This is the waterslide known as the Mayan Temple. It is 6 stories tall and plunges town a 60-foot, nearly vertical drop, then you pass through a clear acrylic tunnel that is submerged in a shark-filled lagoon. Ed was the first to step up and experience the Leap of Faith. Once we realized Ed survived, Chris, Marco and I followed suit. It was such a crazy experience we all ended up doing it again!! There were also many other exciting slides, some we rode down in inner-tubes in. We ended up having a ball that day, but the next we all had bruises and sore back sides. Marco said that even if he wanted to he couldn't do another slide because he was so sore!!
Ed, Marco, Julie and Chris enjoying a drink after the waterslides!!
We also took in the casino where Marco and I once again proved out winning strategy at roulette and I put in a dollar in a slot machine and was rewarded with a $40.50 return. Our winnings would help pay for the $3.50/ft. per night dockage fees.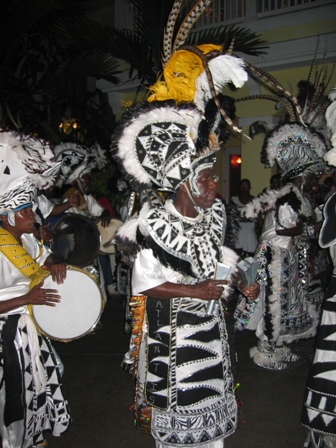 In the evenings at the Marina Village, live entertainment and a parade or "Jump-up" took place. It was like a mini Mardi-Gras with drums, exotic costumes and dancing in the streets.
After all this play time, it was time to get serious, and head back home to the United States, as hurricane season started on June 1st. Tropical storm Barry had just moved along the Florida east coast, and the forecast for the upcoming week was good. We said good-bye to the islands and headed to the US. Our first stop would be Fort Pierce, Florida!